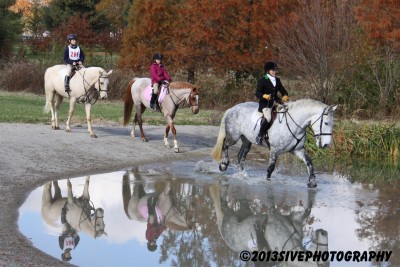 LEXINGTON, Ky. (Nov.6, 2013) — Putting another spotlight on Lexington as the Horse Capital of the World, Masterson Station Park was the site of the inaugural MET Benefit Hunter Pace on Sunday, Nov. 3. Competitors and spectators enjoyed plenty of food, fun, tailgating and horse riding.
Sponsored by Masterson Equestrian Trust Foundation (MET), the Benefit Hunter Pace drew 210 competitors in a timed cross-country event that mimics the conditions a rider might experience while fox hunting. Riders competed in teams of two, three or four. In this fun competition, equestrians were encouraged to try new things throughout the course, taking their horses over jumps and obstacles, negotiating creek crossings, and opening and closing gates. Many riders sported costumes that matched their team names, such as the Ponies of Peace, who were decked out in multicolored wraps, peace signs and tie-dyed shirts. Spectators viewed the Hunter Pace outing from different spots on the course, much like cross-country day at Rolex.
Through entry fees and sponsorships, the benefit raised a little more than $10,000. The monies will be used to improve and maintain the equine facilities at Masterson Station Park to keep it a safe, beautiful and useful recreational site for the entire community.
The MET Benefit Hunter Pace had riders from a wide range of disciplines, including eventers, hunters, recreational trail riders, saddle seat riders and western riders. Many breeds were represented: Appaloosas, Friesians, Thoroughbreds, Gaited horses, Quarter horses, and even a Miniature horse and a pair of mules competed. Officers from the Lexington Mounted Patrol Unit monitored the road crossing during the event.
"A shoutout is in order for the mounted policemen that came to manage our road crossings. They came back with huge smiles on their faces and full of stories of all the folks having a wonderful time out on the course," said event co-organizer Dr. Erika Wierman. "It was so much fun and I am still on a high from the sheer volume of folks that showed up. People had a fantastic time and that is what it's all about."
Ribbons were awarded for first through sixth place in each of three divisions, plus a family class. The first-place winners received a julep cup and other prizes donated by sponsors. Biederman Realty and Kentucky Performance Products were the first-flight corporate sponsors; Feldman Lumber, Mix on Vine and Timber Town Stables were the second-flight sponsors; and there were 16 individual and business fence sponsors.
The MET board hopes to make the MET Benefit Hunter Pace an annual event at Masterson Station Park.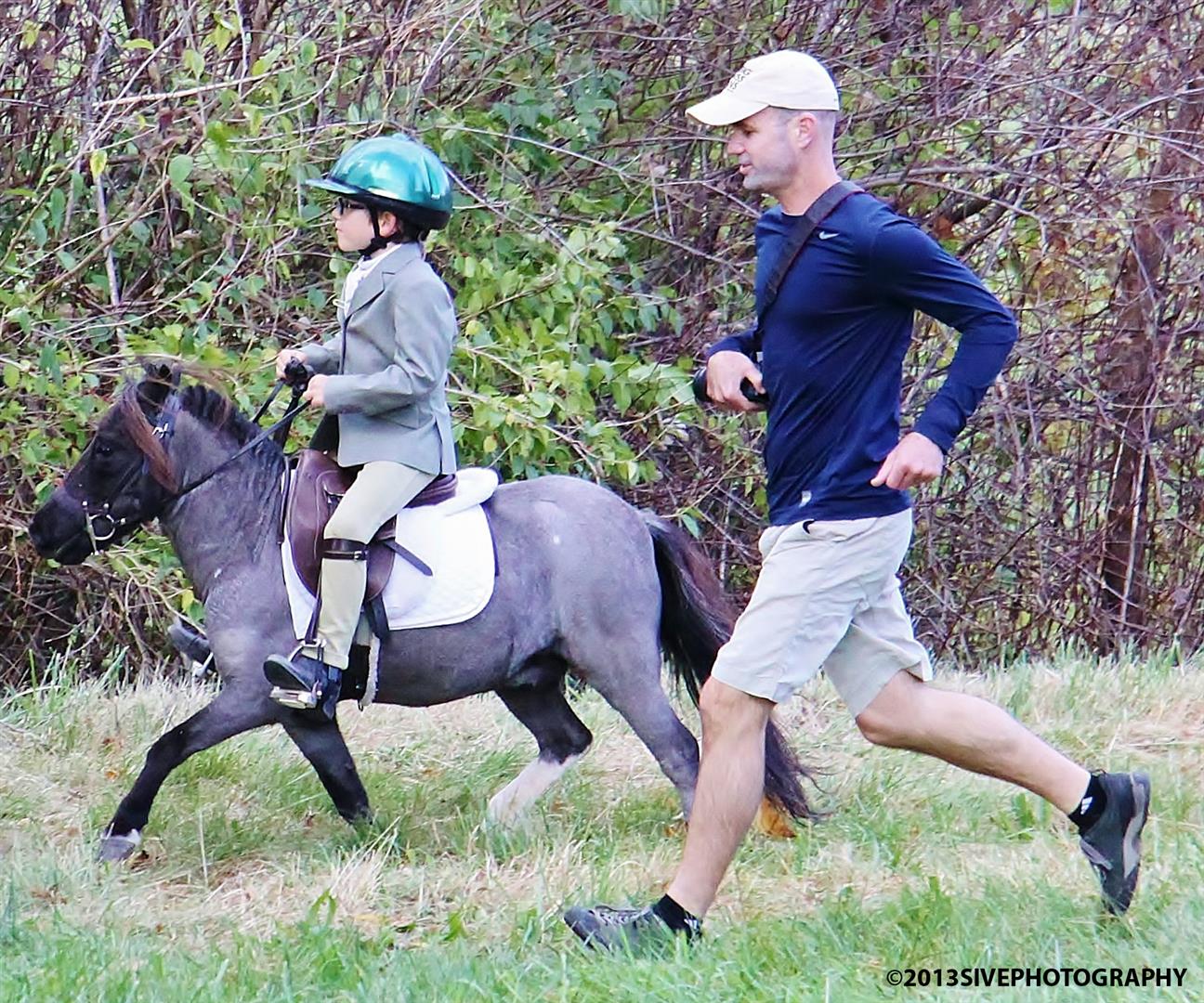 "We were delighted with the turnout for the Hunter Pace," said event organizer Mary Pierson. "Not only did the numbers exceed our wildest dreams, the types of horses on course and the different styles of riding proved that Masterson Station Park is truly THE place to be with your horse on a beautiful fall day."
Competitor Fernanda Camargo said, "We had an absolute blast on the Hunter Pace. The event was well-organized, the organizers were cordial, and there was a collegial spirit all over Masterson Station. People were greeting strangers just because we were all there with the same missions in mind: to have fun and to support the Masterson Equestrian Trust."
Since 1974, the 659 acres of Masterson Station Park have belonged to the city of Lexington for public recreation. The facilities in the park are maintained by the Division of Parks & Recreation. In addition to three shelters, a dog park and fields for football and soccer, the equine facilities at Masterson Station Park include an indoor arena, cross country course, dressage rings, outside hunt course and large riding ring, with plenty of wide open spaces for horse riding. Parks & Rec also facilitates a very popular equestrian riding lesson program. Since Masterson is a multi-use park, the equine facilities are also utilized by runners, cyclists and dog enthusiasts.
Photographer credit: Sive Photography
About Masterson Equestrian Trust Foundation
Established in 2004, Masterson Equestrian Trust Foundation is a nonprofit 501(c)(3) corporation devoted to working alongside the Division of Parks & Recreation to preserve Masterson Station Park for all horse lovers, in keeping with Lexington's distinction as the Horse Capital of the World. MET board members and volunteers help with annual maintenance and work with Parks and Rec to make improvements to the equestrian facilities of the public park.