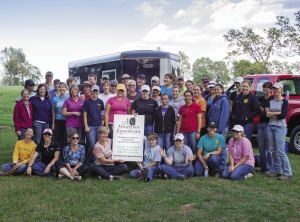 (November 26,2012) On Saturday, September 22, 2012, a group of volunteers 50-plus strong descended upon Masterson Station Park ready to go to work. During the MET Annual Work Day, volunteers formed crews. Some headed off to gather their tools from the tool trailer provided by the Kentucky Back Country Horsemen, while others loaded up with cleaning and painting supplies provided by Masterson Equestrian Trust (MET). It wasn't long before the crews were spread out across the park, weeding, trimming, scraping, painting and repairing.
Volunteers representing the UK Dressage and Eventing team, Midway College Equestrians, Equine Land Conservation Resource, and Tiffany's all chipped in. Many individuals who love and appreciate Masterson Station Park came to help as well. Photographers Jennifer Mayberry and Christine Hansen roamed the park documenting the transformation. McCauley Bros. feed company donated drinks and snacks that were distributed to the busy volunteers from the back of a pickup truck.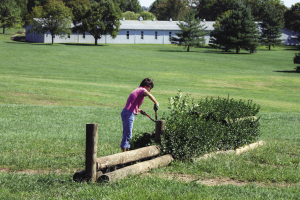 In just four short hours, the hunter ring fence and gates were repaired and painted. The dressage rings were weeded and the trees surrounding them were trimmed to facilitate mowing. Cross-country jumps were treated and repaired. Weeds were whacked and brush was trimmed. The judge's stand stood gleaming from a fresh coat of paint.
"An amazing amount of work was completed!  The volunteers were so into it," said MET Annual Work Day coordinator Deb Balliet.
At the end of the afternoon all the volunteers gathered around the snack table while MET board members set about drawing names from a hat for the large stack of volunteer appreciation gifts donated by many of MET's generous sponsors.
As the afternoon drew to a close and the last vehicle pulled out of the parking lot, the equine facilities at Masterson Station Park looked a great deal better because a group of people took the time out of their day to show just how much they cared. Thanks to all those volunteers who gave of their time and the sponsors that supported them in their efforts. We couldn't have done it without you!